Overview
LegalAtoms provides a complete solution for law enforcement agencies serve the case documents.
Typically, the case proceeds in the following steps with steps 6-8 covering electronic servicing.
Petitioner prepares the case, and during the process may take help from advocates and facilitators
Petitioner e-files the case
The Clerk accepts the case and forwards the case to the judge

The Clerk can optionally reject the case, which results in the case being returned to the Petitioner, who can then resubmit

The Judge signs a temporary order and routes the case back to the Clerk
The Clerk notifies law enforcement
Law enforcement serves the case to the respondent
Respondent acknowledges
Law enforcement completes the Proof of Service form and routes the case back to the clerk
Of course, the workflow described can change depending on your court's processes.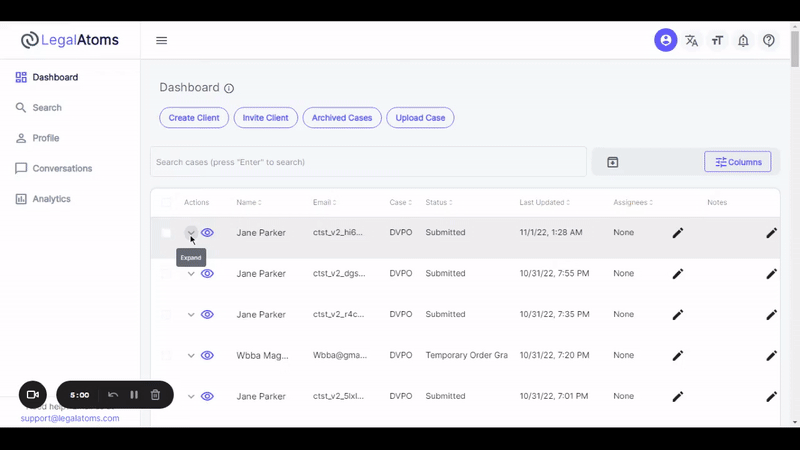 Steps for law enforcement
1. Login
The officer logs into LegalAtoms and lands on the case overview page. The page lists the cases routed to the law enforcement team. Typically, a single account is used by the department rather than a single account per officer so that there is cross-visibility on all cases.
2. Review servicing queue
The queue lists all the cases sent over to the law enforcement team, like an email inbox, with the latest case at the top.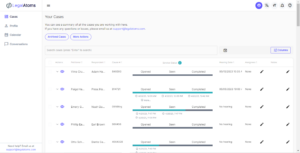 Status
The green bar is a like a progress bar that lists all the stages a case goes through, from the moment the servicing request is received, to its completion.
Opened: This means that in case the client was served electronically, the email or text message was opened by the respondent. This is just like the text message status of "Read" we see on iMessage or Facebook.
Seen: The respondent has opened the e-service acknowledge form on their browser.
Completed: The respondent has completed and submitted the acknowledge form.
Hearing
This column indicates the hearing date until it's arrived.
Actions
E-Serve: Opens a dialog that allows the officer to electronically serve the respondent their case documents
View case details: Navigates to the case details page with more information on the case
3. Serve a respondent
An officer would click the "E-Serve" to deliver the case documents to the respondent electronically. Text messaging and email remains the most convenient and reliable way to serve, but law enforcement can choose any of the following means:
Text
Email
Facebook
Twitter
Whatsapp
LegalAtoms pre-populates the respondent information provided by the petitioner. The officer can override these values.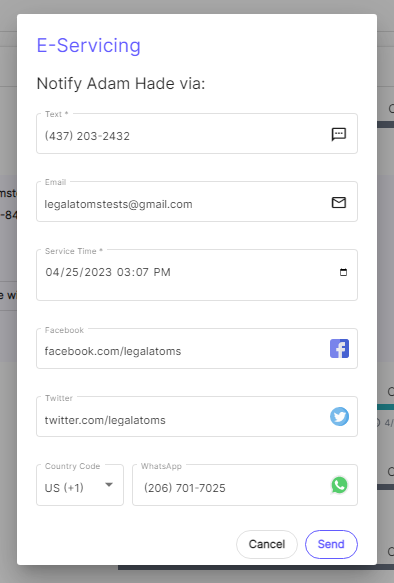 3. Complete the proof of service form
Once the respondent acknowledges, the law enforcement agency receives a notification. At this point, the officer can complete the proof of service form digitally online from any device (laptop, smartphone, tablet). Then let the clerk and client know the Proof of service (POS) is completed.