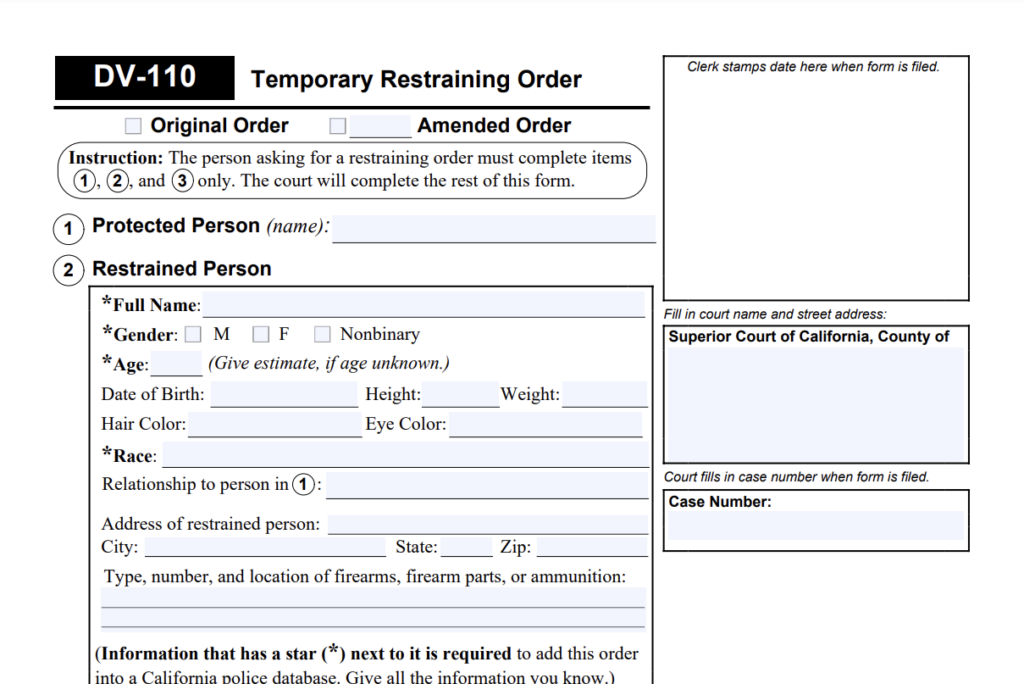 In California what should I do if I received the DV-110?
These documents, namely the DV-109, DV-100, and DV-110 forms, are about restraining orders.
If you have received any of these forms, it means that someone has filed a request for a restraining order against you. Here is a breakdown of each form:
Notice of Court Hearing (form DV-109): This form notifies you about an upcoming court hearing regarding the restraining order request.
Request for Domestic Violence Restraining Order (form DV-100): This form is used by the person seeking the restraining order to formally request it.
Temporary Restraining Order (form DV-110): This form is a temporary measure that may be granted prior to the court hearing, restricting your contact with the person who filed for the restraining order.
The form DV-110 means that a temporary restraining order has been granted and you need to carefully stick to the court orders.
A restraining order, even a temporary one, imposes limitations on how you can contact, visit, communicate, or have an online exchange, or have any interaction with the individual who requested it.
If the person who filed the order also share a child with you, then the restraining order can potentially also restrict your custody, visitation, and travel  of the children and could require you to pay child support.
If you were married to the person who filed the case, it could  the case of marriage, the order may ask you to pay spousal support (also called alimony) which is a usually monthly payment to the ex-wife to help pay their basic living expenses.
A restraining order can also have additional implications, such as prohibiting your access to firearms and ammunition.
You have a scheduled court date, during which a judge will evaluate the situation and determine whether to grant the restraining order. If approved, the order can remain in effect for a duration of up to five years.